Antarctica Services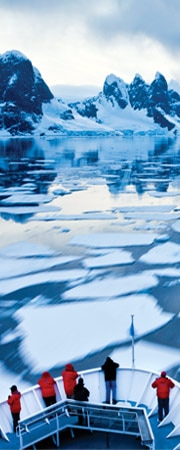 Rent Boots, Waterproof Pants & Trekking Poles
Delivered to the Ship
The heavy boots that are an essential item for Antarctic expedition travelers are often a one-time purchase and add inconvenience, environmental waste and expense to travel. Waterproof pants are also essential. Trekking Poles provide stability while ashore in Antarctica. Rental Boots/Waterproof Pants/Trekking Poles are delivered to National Geographic Explorer or National Geographic Orion in Ushuaia.
Rent Boots/Waterproof Pants/Trekking Poles Now
Discover More About the Boot Rental Service
Gear Up Package
A package of essential expedition gear for Antarctica eliminates the guesswork of what to wear to stay warm. One price for the package. Add-ons are optional.
Purchase a Get Fully Outfitted Package for Antarctica
Onboard Delivery
Enjoy the convenience of your order delivered to your stateroom. Orders can be delivered to the ship in Ushuaia for a flat-rate shipping charge, including taxes and custom clearance.
About Onboard Delivery
Packing List for Antarctica
In anticipation of temperatures ranging from 75° F in Buenos Aires to a low of approximately 20° F in Antarctica, you will need a travel wardrobe that can adapt to varied and changeable weather conditions.
View our recommended packing list for Antarctica
How to Order a Parka
To order your complimentary parka please, call Lindblad Expeditions at 800-397-3348, or email explore@expeditions.com. For questions about parka sizing and gearing up recommendations, please email Lindbladcustomercare@stshore.com.