Complimentary Parka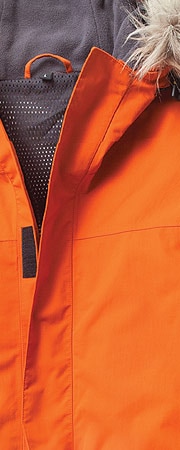 A complimentary insulated, water-repellent, hooded parka is offered on all Antarctic sailings. The parka is an outershell and insulation jacket layering system, developed and designed especially for Lindblad Expeditions to provide the perfect warmth-to-weight ratio for expedition travelers to Antarctica.
How to Order a Parka
To order your complimentary parka please, call Lindblad Expeditions at 800-397-3348, or email explore@expeditions.com.
Antarctica
Click Here to Download Antarctica Parka Information
Arctic
To commemorate the National Geographic Endurance Arctic inaugural expeditions, guests will receive a complimentary insulation jacket layering system or an insulated jacket. Applicable to the following sailings: April 4, 11, 18, 25; May 2, 30; June 13, 20; July 18; August 8; September 2 & September 19, 2020
Click Here to Download Arctic Parka Information
Caring for your Parka
The outershell fabric is treated with special polymers that prevent the fabric from absorbing moisture, by making water bead up and roll off to minimize condensation within the garment and maximize breathability. Over time your garment will absorb oil and dirt, the polymers break down, and the waterproof and breathability qualities are reduced. Therefore it is essential to keep your parka clean.
Washing Instructions
Wash outershell in warm to cold water with like colors.
Faux fur around the hood is detachable. Remove before washing.
Use a mild detergent, never use liquid detergents. For the best performance we recommend washing your parka using Nikwax.
Tumble dry on a medium heat to help redistribute the polymers on the fabric surface.
Complimentary parkas once shipped in plastic bags. Now each parka arrives in a reusable bag, thanks to Ship to Shore Traveler's forward and original thinking. As the bag states, it can be reused as a laundry bag, for beach cleanup, storage and other practical uses. Now guests can feel doubly good about their Lindblad-National Geographic Expedition polar parkas!